What To Do This Weekend: New Socially Distanced Art Exhibition Artists at Work
September 10, 2020
Northern Liberties Business Improvement District announces the debut of  a new socially-distanced art exhibition and crawl titled Artists at Work. Artists at Work exhibition kicks off this weekend with interactive live demos in storefronts and windows.
Artists at Work will showcase the many creative talents of seven local artists and makers and pair them with six maker and retail spaces in Northern Liberties along the North Second Street corridor. Art fans and supporters of the neighborhood are invited to come out with their COVID pods and family circles and socially distance along the route while viewing live art demonstrations.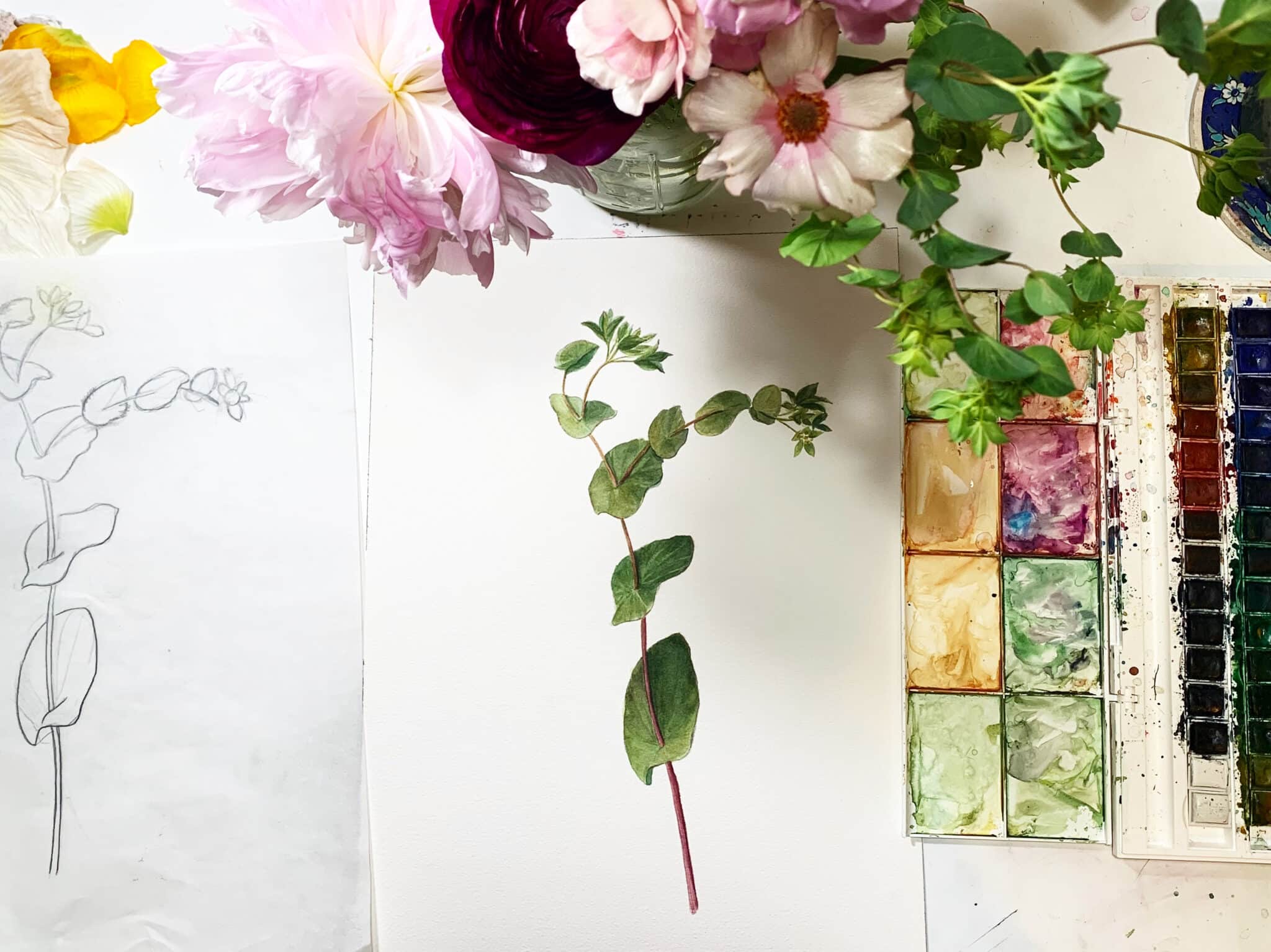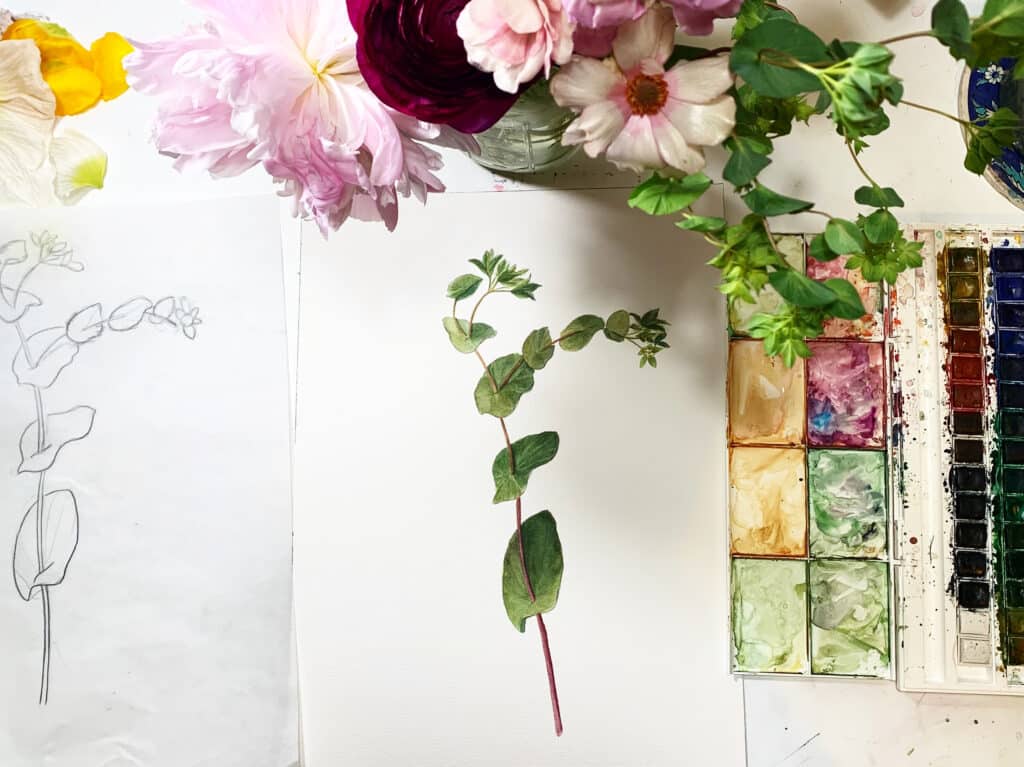 Photos provided courtesy of Northern Liberties Business Improvement District
With generous funding from the Philadelphia Cultural Fund, the Northern Liberties Business Improvement District is proud to present a socially-distanced art exhibition like no other during the month of September. Participating stores and artists include the following:
Art Star, 623 N 2nd St featuring Janell Wysock

Casa Papel, 804 N 2nd St featuring Jackie Quinn

Once Worn Consignment, 906 N 2nd St featuring Peter Oravetz

R.E.Load Bags, 608 N 2nd St featuring Miriam Singer

SWAG, 935 N 2nd St featuring Sam Angel

Trunc, 929 N 2nd St featuring Alec K Rogers and Dindga McCannon
Some of the retail spaces are now reopening after being closed most of 2020 due to shut down orders and other factors. Some will now reopen, some will extend hours, and others will show off their new ways they are surviving the pandemic by debuting new ways of doing business – including new website and online sales (as an example). This also allows the artists to get out in the spotlight and show off their wares after being so hard hit by the economic challenges this year.
Artists at Work exhibition kicks off this Saturday, September 12th, from 5-7pm. Six Northern Liberties storefronts will come alive with artist and craftsperson demonstrations. Watch them weave, paint, and show off their creative energy safely behind storefront glass, then explore Northern Liberties food and beverage offerings. The exhibition will remain up after Saturday through September 30th. Artists at Work is free and open to the public. Masks are required, and general social distancing guidelines apply.  Presented by Northern Liberties Business Improvement District with support from Philadelphia Cultural Fund.
"Social distancing has changed a lot about how we shop, but not how we feel about the shops we love," said NLBID Executive Director Kristine Kennedy. "Artists at Work offers an opportunity to support your favorite Northern Liberties' small shops and boutiques and the artists whose work they sell in a safe, socially distant way." She added, "There will be live demonstrations by the artists in the storefronts, so you can watch them work from a safe distance, behind glass. Their work will be displayed in the shop window for the rest of September and you'll be able to order via the stores' online shops.  Our boutiques have been through a lot since March. The BID worked with them on a program that really, truly supported them and the makers that they buy from."
Kennedy added, "Northern Liberties shops have such a focus on locally made products that when they suffer, so does the local craft community. We hope Artists and Work will help reconnect Philadelphians with their artist community. And hey, it's not too early to shop for Christmas! Buy something handmade this year."
Artist Bios
Sam Angel
An art school graduate and transplant from Pittsburgh, Sam Angel is an artist that dabbles in many mediums. Her work is prolific in tattoo graphics, fan art drawings, and greeting card illustrations. Through the past few months of quarantine, Sam has picked up a new craft of cross-stitching embroidery hoops. Her hoops range in size and styles. You will find everything from cutesy tongue-in-cheek puns to profanity laced thoughts.
Dindga McCannon
Dindga McCannon is a mixed media artist, working on canvas, paper, clothing and making quilts. One of her works was on the cover of the Swan Gallery Auction House catalogue during an auction. The piece sold for over $200,000. Dindga lives in South Philly but is from Harlem NY.  will be doing a demo on how she Tie Dyes and screen prints her clothing.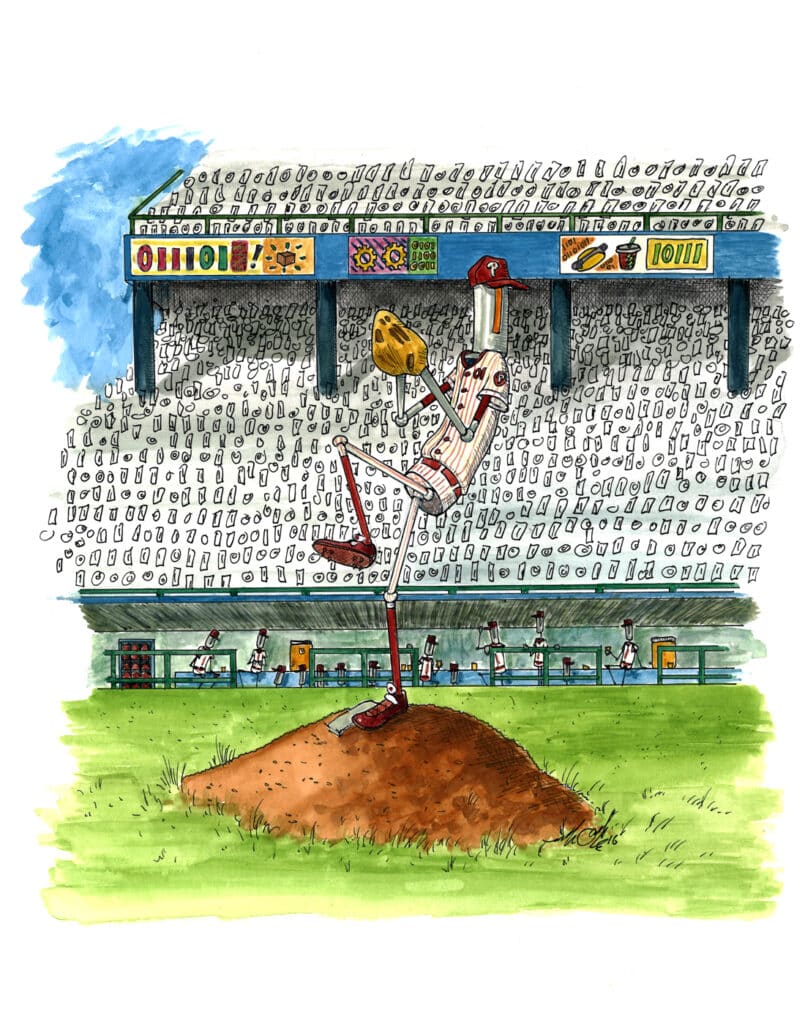 Photos provided courtesy of Northern Liberties Business Improvement District
Peter Oravetz
http://www.oravetzarts.com/
Peter Oravetz, the creator of "Robots!", is a working artist and published illustrator living in Philadelphia, Pennsylvania. In 2004, he graduated with honors from Montserrat College of Art, where he received a Bachelors degree in Fine Arts. Presently, he is pursuing another illustrated series entitled "Catastrophe", a Robots! book for kids and developing/co-producing an unrelated independent animation.
Jackie Quinn
Jackie Quinn creates original artwork with playful shapes and intricate lines – painting with watercolor, gouache, and enjoys explorations in mixed media. Her innate optimism and joyful point of view are illustrated throughout each project.  Her textile design work is featured by Anthropologie, Karl Lagerfeld, J. Jill, Nine West, Coldwater Creek, Belk, Dillards, Macy's, and more. She is currently an active member of Space 1026, partner of Philly DIY Wedding, and pursuing projects in art education alongside freelance design projects.
Alec K. Rogers
Alec K. Rogers' one of a kind metal floral designs are inspired by nature and made to last a lifetime in your home. Each handcrafted flower is unique in its shape, and composed of  just a single line of wire. Some are based on actual plants, while others are entirely from the artist's imagination. These flowers and ferns may be enjoyed solo or in large bouquets, in a tall vase, paired together with live house plants, as table centerpieces, or as wall hangings. Their stems are bendable, making their height easy to adjust based on intended use and placement.
Miriam Singer
http://www.miriamsinger.net/
Miriam Singer uses a combination of printmaking and drawing media to create her unique works on paper and designs for public art projects. She has exhibited at Paradigms Gallery, James Oliver Gallery, Stanek Gallery, Push Proof Studio, Booklyn Art Gallery, LG Tripp Gallery, Woodmere Art Museum, Rowan University, Luke and Elroy Gallery, Gallery Siano, The Painted Bride, and Spector Gallery. Selected public art projects include, St. Andrews School in Delaware, 2020, University City Arts League in Philadelphia, 2019, Comcast Technology Center in Philadelphia, 2018, Navy Yard Bus Wraps, 2018, Art in The Airport, 2018, and Parktown Place Apartments, 2017. Miriam Singer currently teaches printmaking at Fleisher Art Memorial in Philadelphia and is a member of the artist collective, Space 1026.
Janell Wysock
Janell Wysock builds fabrics and structures that become something to wear for the body and home or non- functional interior and exterior installation work.  Creating an environment is what has become her focus. You will find her teaching classes and also will note the many projects she takes on to up-cycle and rethink how everyday objects are used and can be transformed into something that creates environment or space.  Allowing the viewer to participate in various ways is what makes connecting with Janell unique, allowing the customer/viewer to align with their ideas of art, expression and sustainability.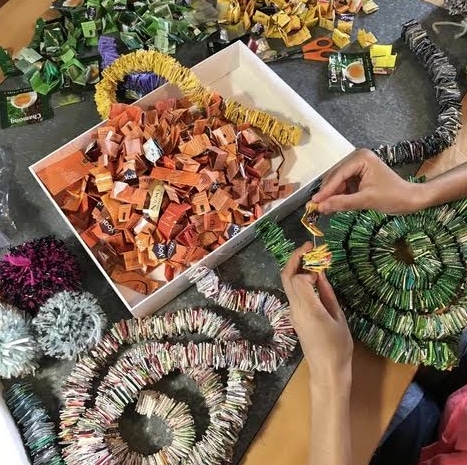 Photos provided courtesy of Northern Liberties Business Improvement District